You Can't Put Your Arms Around a Memory
A tribute to those musicians and singer that have passed but left us with inspiration.
   The title for this collection of portraits is taken from the title of a song by Johnny Thunders.  The song can be interpreted as a loss of a loved one where all that is left is the memory of them which is intangible.
    What is tangible is the legacy they have left behind, the inspiration and influence of their sound, their music.  I grew up with music and art constantly around me, musics from all sorts of genres.  From latin ballads to operas, rock, punk, reggae heavy metal and more.  Music influenced my artistic trajectory.  What I created, how I created, why I created.  My all night drawing and painting sessions fueled by the soundtrack created by these artist that I am paying homage to through these portraits.  When choosing who to illustrate I had 2 requirements. 1, that they had an impact on me personally and also an impact on the musical scene whether its was the mainstream scene or the underground scene and 2, that the passed away during my lifetime. 1973 to the present.
    I felt it was important to have an emotional connection with each portrait I drew.  I can recall as a child hearing the news that John Lennon was shot and not realizing the tragic loss of that moment till my older brother made it clear that everything that Lennon had created up until that point, is it, thats all we get, no more new songs or melodies.  As is with each artist that I illustrated.  We may not be able to put our arms around their memory but we can embrace the music that they have created and let it continue to inspire us.  Each portrait purposefully engaging each viewer by making direct eye contact challenging you to recognize that they are not really gone but that they live on through their music and artistry.
    I ask that you engage with these portraits discover their music if you have not heard it before.  Let their music inspire and influence your life, let their music do what it is suppose to do.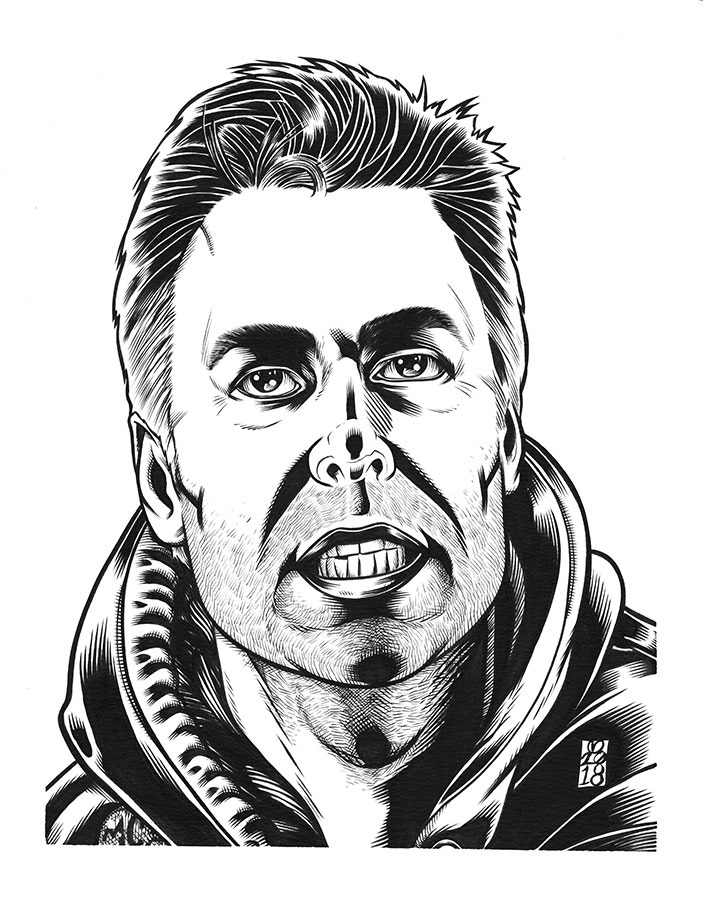 Adam Yauch
Beastie Boys
Adam Nathaniel Yauch (August 5, 1964 – May 4, 2012) was an American rapper, singer, musician, songwriter, director and film distributor. He was best known as a founding member of the hip hop group
Beastie Boys
. He was frequently known by his stage name, MCA, and sometimes worked under the pseudonym Nathanial Hornblower.
Beastie Boys was definitely part of my 80's soundtrack with the "License to Ill" album.  MCA being the one I connected with from the band, he had the more rocker/punk look from the 3 of them.  The music took me to that special place where I could be in creative bliss.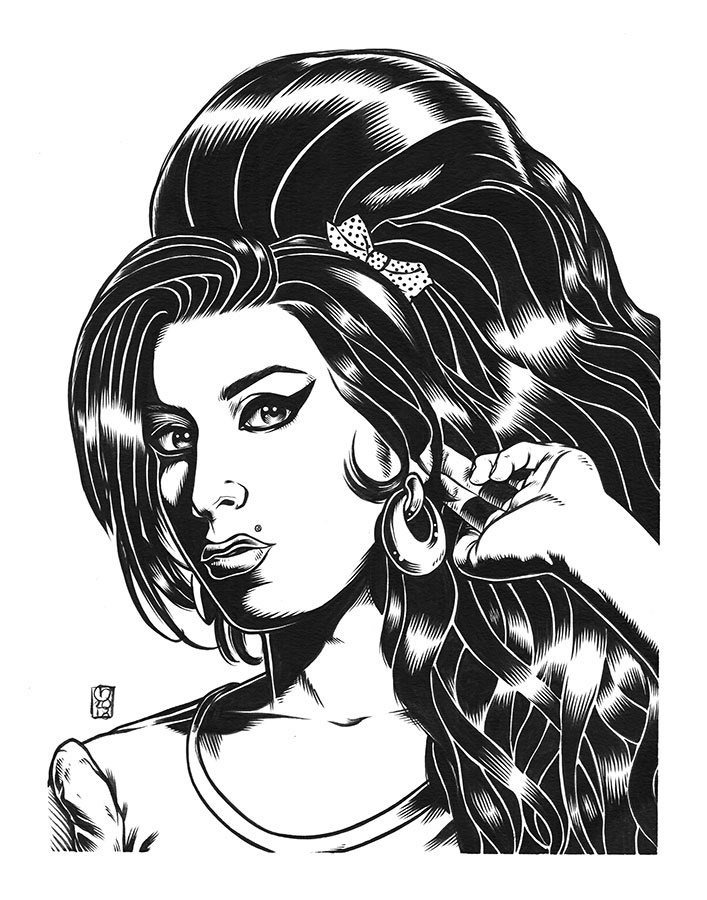 Amy Winehouse
Amy Jade Winehouse (14 September 1983 – 23 July 2011) was an English singer and songwriter. She was known for her deep, expressive contralto vocals and her eclectic mix of musical genres, including soul  (sometimes labelled as blue-eyed soul and neo soul), rhythm and blues, and jazz.
A truly tragic story but her music certainly did take you away, lost in her sultry voice creating cool eclectic visuals in my brain.  Her style, look and sound certainly inspired new images for me.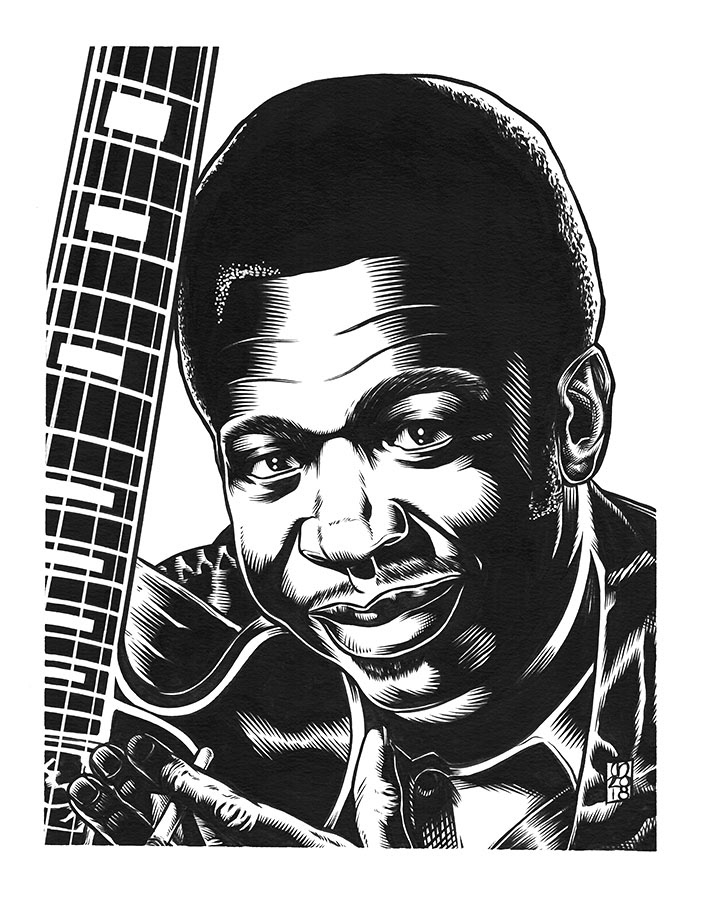 B.B. King 
Riley B. King (September 16, 1925 – May 14, 2015), known professionally as B.B. King, was an American blues singer, electric guitarist, songwriter, and record producer.  Growing up as a kid blues was some of the first music I listened to.  Then hearing its influence in practically every other genre I would listen to.  B.B King played such a natural fluid blues that was a perfect accompaniment for my late night drawing sessions creating rough concepts and ideas allowing for a creative stream of thought.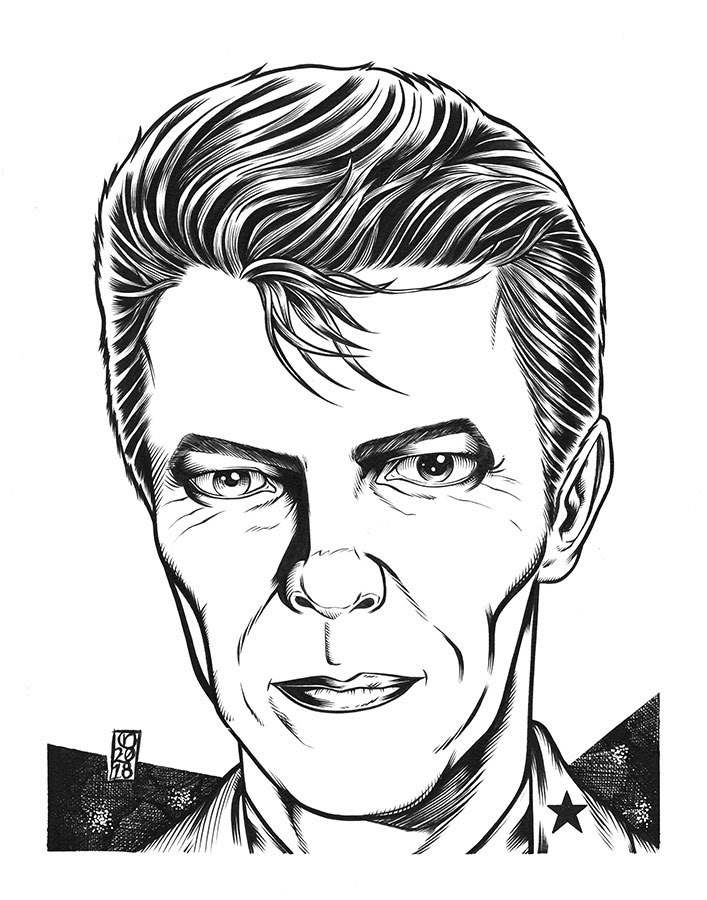 David Bowie
David Robert Jones (8 January 1947 – 10 January 2016), known professionally as David Bowie, was an English singer-songwriter and actor. He was a leading figure in popular music for over five decades, acclaimed by critics and fellow musicians for his innovative work.
I don't think anyone has influenced me so diversely as David Bowie.  Every changing and morphing into something new.  Visually and musically always evolving.  It made me realize art needs to be the same way, in constant motion and changing never stagnant.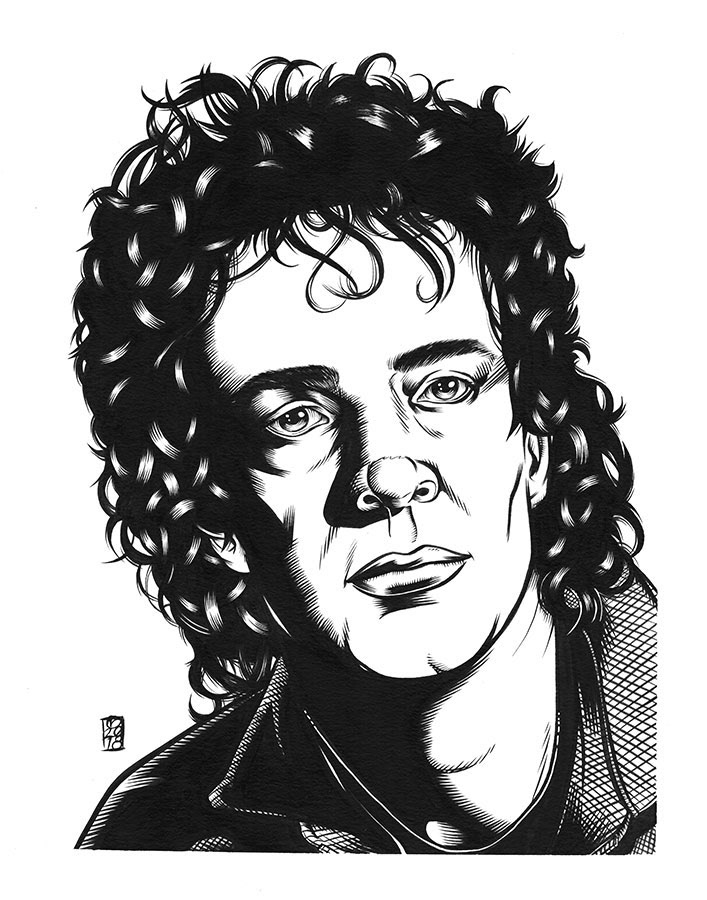 Gustavo Cerati 
Soda Stereo
Gustavo Adrian Cerati (11 August 1959 – 4 September 2014) was an Argentine singer-songwriter, composer and producer, considered one of the most important and influential figures of Ibero-American rock, Cerati along with his band
Soda Stereo
, were one of the most popular and influential Spanish-language rock and pop groups of the 1980s and '90s.
I've listened to Soda Stereo since the mid 80's.  They have become a part of my musical dialogue and was my gateway drug to latin rock allowing me to discover incredible new sounds and bands.  His solo material was just as addictive.  His passing hit hard and hold dearly the music he has created.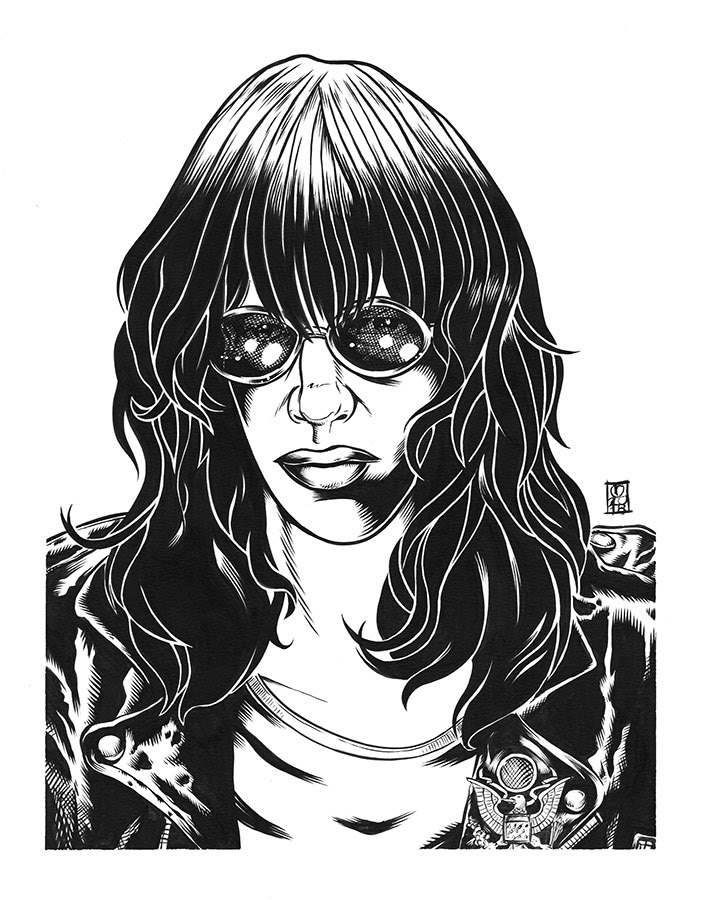 Joey Ramone
The Ramones
Jeffrey Ross Hyman (May 19, 1951 – April 15, 2001), known professionally as Joey Ramone, was an American musician and singer-songwriter, lead vocalist of the punk rock band the
Ramones
. Joey Ramone's image, voice, and tenure as frontman of the Ramones made him a countercultural icon. 
To this day the Ramones music inspires with a steady flow of images into my brain.  With songs like I Wanna Sniff Some Glue, Loudmouth, Rockaway Beach, its New York punk and Beach Boys all at the same time.  Easily one of my favorite bands and that has influenced heavily my artwork.  His passing definitely hit hard.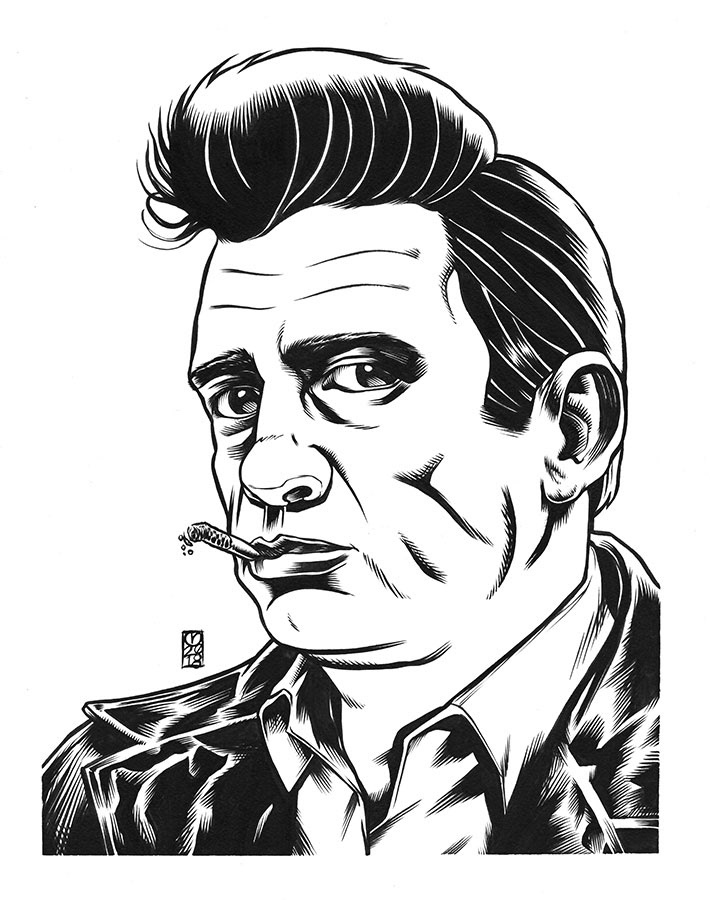 Johnny Cash
John R. Cash (born J. R. Cash; February 26, 1932 – September 12, 2003) was an American singer-songwriter, guitarist, actor, and author. He is one of the best-selling music
artists of all time, having sold more than 90 million records worldwide.  Although primarily remembered as a country music icon, his genre-spanning songs and sound embraced rock and roll, rockabilly, blues, folk, and gospel. 
Country music was never one of my preferred genres but Cash certainly bridged that connection with me.  With a raw emotional feel to his music, sometimes gut wrenching and sometimes lifting.  His music allowed me to envision a deeper, stronger visual imagery.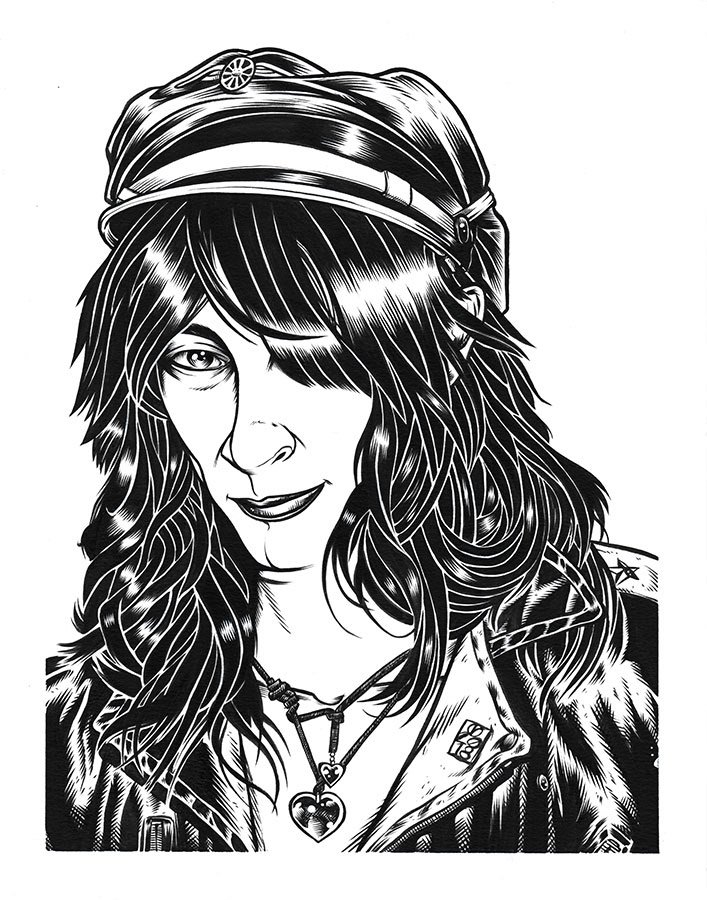 Johnny Thunders
New York Dolls
John Anthony Genzale (July 15, 1952 – April 23, 1991), better known by his stage name Johnny Thunders, was an American rock and roll/punk rock guitarist, singer and songwriter. He came to prominence in the early 1970s as a member of the
New York Dolls
. He later played with
The Heartbreakers
and as a solo artist. 
 First listened them back in the late 70's early 80's.  My brother had this LP with this band "the New York Dolls" dressed in tight satin, high heels and make up.  But the music was incredible, fast furious but with a touch of soul and a slight influence from Motown and frenetic guitar playing.  Slightly punk before punk was a thing.  Malcolm Mclaren was their manager for a short period of time, he then later left back to the UK to manage the Sex Pistols.  
The New York Dolls was definitely a big part of my creative upbringing.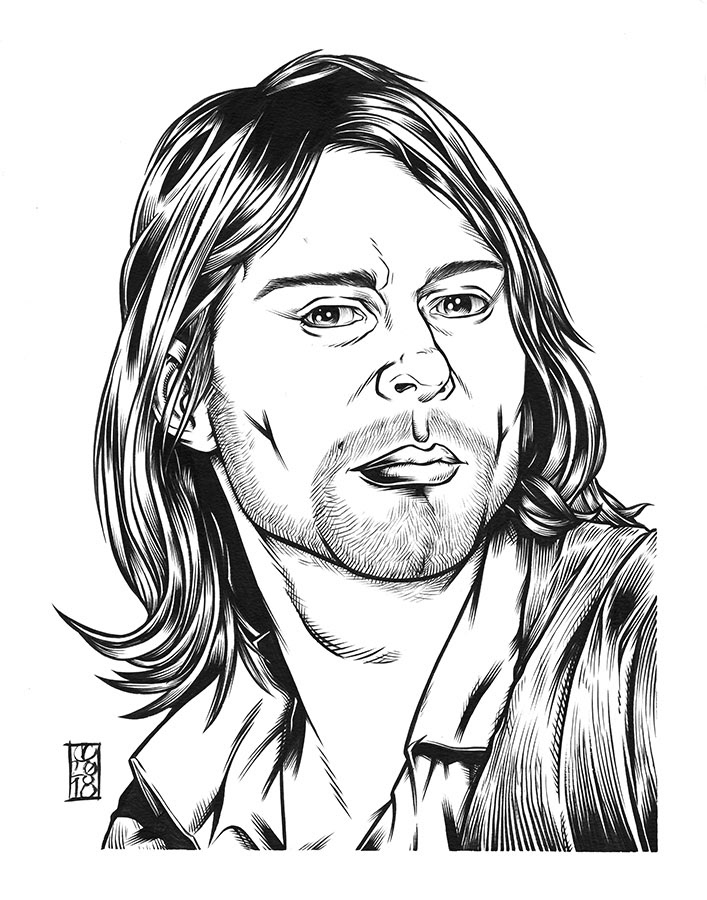 Kurt Cobain
Nirvana
Kurt Donald Cobain (February 20, 1967 – April 5, 1994) was an American singer, songwriter, and musician. Born in Aberdeen, Washington, Cobain formed the band
Nirvana
with Krist Novoselic and Aaron Burckhard in 1987 and established it as part of the Seattle music scene which later became known as grunge.
First listening to them as a senior in high school the heavy bass beat and grinding guitars that was "Smells Like Teen Spirit" and the surreal visuals that was the music video.  The sound was sorta post punk and miles away from the generic party metal that was clogging up the airwaves.  So vastly different in sound and visually from what was the musical norm at that time.  It certainly jarred my art into a new direction.
Lemmy Kilmister 
Motorhead
Ian Fraser Kilmister (24 December 1945 – 28 December 2015), better known as Lemmy, was an English musician and singer-songwriter who founded and fronted the rock band Motorhead. His music was one of the foundations of the heavy metal genre.  Loud, fast and furious is what Motorhead was like an adrenaline shot to my ears.  This is where the skulls and leather began seeping into my creative flow.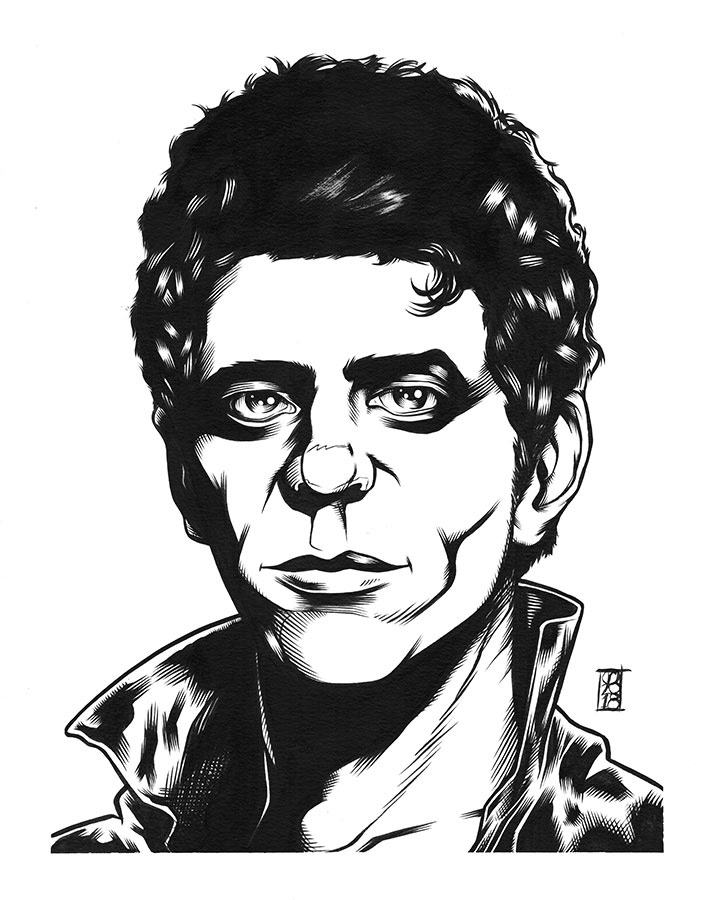 Lou Reed
Velvet Underground
Lewis Allan Reed (March 2, 1942 – October 27, 2013) was an American musician, singer, and songwriter. He was the lead guitarist, singer and principal songwriter for the rock band
the Velvet Underground
, with a solo career that spanned five decades.
With Velvet Underground Lou Reed established a sound and aesthetic that was born from the Warhol Factory.  Creating a marriage between visual art and music. Certainly solidified my belief art and music and never really be viewed separately, one feeds of the other and vice versa.  In his solo career Lou Reed created the album "New Sensations" I've listened to it more than any other album I have.  "New Sensations"  Its still one of my favorite albums and I still derive inspiration from it.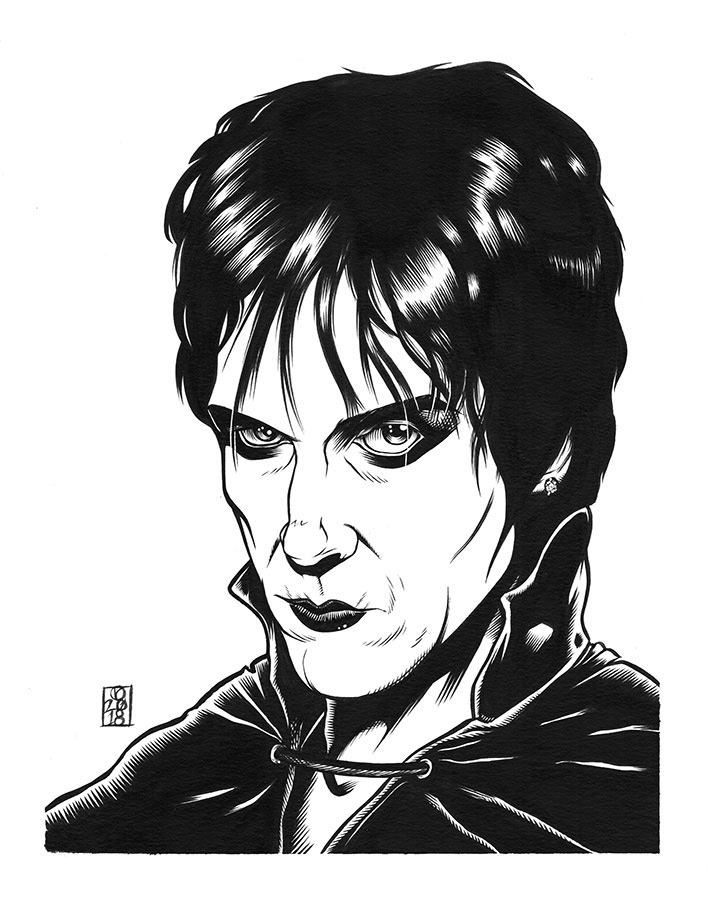 Lux Interior
The Cramps
Erick Lee Purkhiser (October 21, 1946 – February 4, 2009), better known by the stage name Lux Interior, was an American singer and a founding member of the psychobilly band
The Cramps
from 1972 until his death in 2009 at age 62.  
At first glance you wonder if their Goth or maybe Punk but once you hear them its a fully amped up rockabilly sound with visions of monsters and bikini girls with machine guns, that you can only call psychobilly.  At this point I had discovered what was the lowbrow art movement fully of hotrods and monsters.  The Cramps was the sound track for that journey, for me.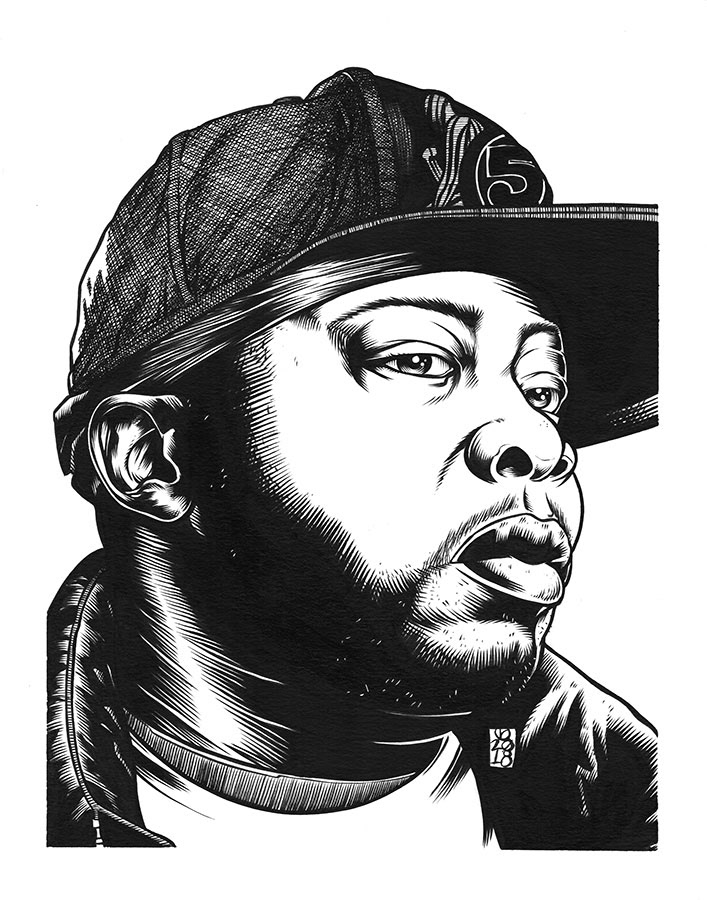 Phife Dawg 
A Tribe Called Quest
Malik Izaak Taylor[1] (November 20, 1970 – March 22, 2016), known professionally as Phife Dawg (or simply Phife), was an American rapper and a member of the group
A Tribe Called Quest
with
Q-Tip
and
Ali Shaheed Muhammad
(and for a short time
Jarobi White
).  With band like Run DMC, Public Enemy;  A Tribe Called Quest definitely formed a part of my hip hop education.  Formulating and installing an appreciation for the art that was part of the hip hop movement at that time.  The graffiti wild stye of the 80's.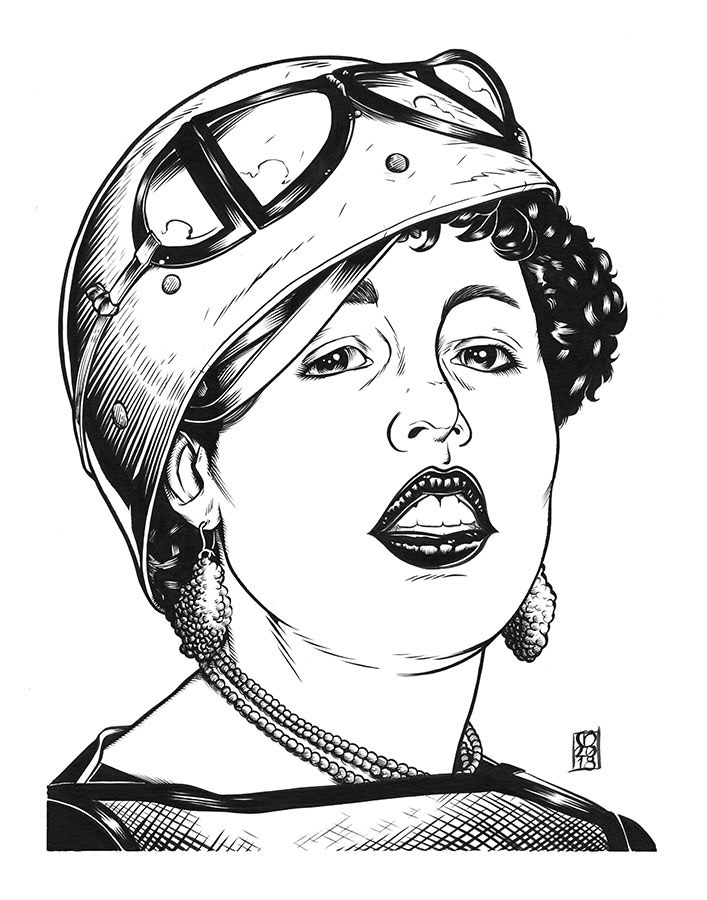 Poly Styrene
X-Ray Spex
Marianne Joan Elliott-Said (3 July 1957 – 25 April 2011), known by the stage name Poly Styrene, was a British musician, singer-songwriter, and frontwoman for the punk rock band
X-Ray Spex
.
She formed her band X-Ray Spex in 1976 but I didn't get around to discovering their music til the early 90's and became an instant fan with her insane vocals and piercing high notes.  It was punk but with a different sound that inspired different images.  Absorbing and bringing her music into my ever growing lexicon of inspiration.
Wendy O Williams
The Plasmatics
Wendy Orlean Williams (May 28, 1949 – April 6, 1998), better known as Wendy O. Williams, was an American singer, songwriter and actress. Born in Webster, New York, she first came to prominence as the lead singer of the punk rock/metal
band the
Plasmatics
. Her famous stage theatrics included near-nudity, blowing up equipment, and chain-sawing guitars. 
I remember as kid in the early 80's listening to this blistering rock making every other metal band of the day sound tame and safe.  With volatile sound and visuals, Wendy O and the Plasmatics set me on a path from drawing pictures of Spiderman to more intense and wilder images. Her passing certainly had me revisiting those old LP's and rediscovering the intensity that was the Plasmatics.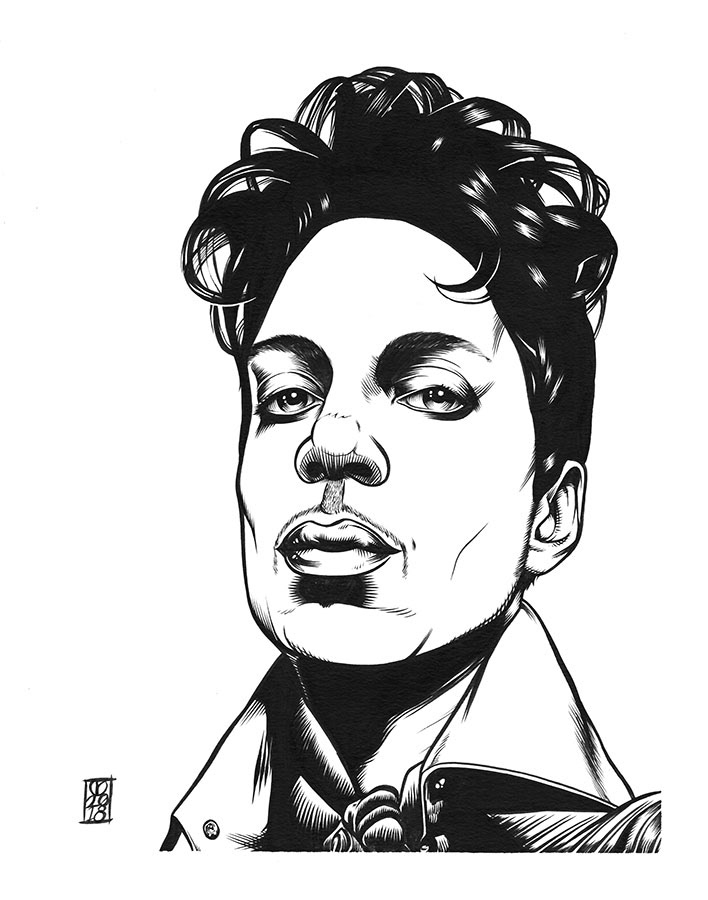 Prince
Prince Rogers Nelson (June 7, 1958 – April 21, 2016) was an American singer, songwriter, musician, record producer, actor, and director.  
his entire vibe was driven by the visuals and sounds and bringing those 2 together.  At times soulful and at other times blistering rock.  It's impossible to have an 80's childhood and Prince not be a part of it.  Never losing his relevance through out the 90's and 2000's, constantly reinventing.